Main content starts here, tab to start navigating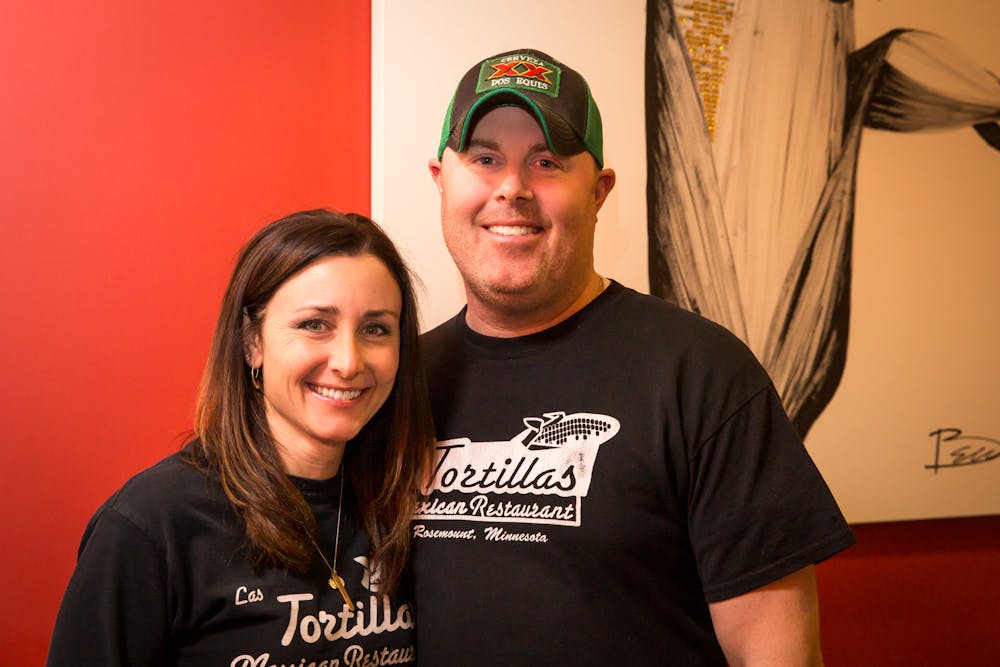 Ryan & Jen McGunnigle always knew they wanted to open a restaurant. They both love to cook, host parties, and eat good food! As 1995 graduates of Rosemount High School, they felt at home when they found their own restaurant spot in Rosemount. On May 18, 2011, Las Tortillas opened as the only full service, Chef driven Mexican Restaurant in Rosemount.
Ryan started his culinary journey at Big Daddy's Diner, in the mid 1990's. He is a Culinary graduate from Johnson Wales University and has worked in several establishments in various roles from Cook to Server to Executive Chef/General Manager. Jen is a Business graduate from St. Cloud State, who also had some experience in the industry. They both know how food and drinks bring people together and wanted that to be the premise for Las Tortillas.
The idea for a Mexican Restaurant in an Irish town came about after Ryan, (Executive Chef) had worked with Ricardo Carmona, (Sous Chef) at a Country Club for 9 years. Prior to that, Ricardo, a Mexico City native worked at his family's bakery where he learned his passion for cooking. They realized Rosemount had nothing like the concept of Las Tortillas - and decided to go for it. Starting with fresh ingredients, and Ricardo's family recipes, they created a fresh take on local Mexican cuisine that they like to call "Mexican Flair." Ryan became the owner/operator, Jen the business administrator, and Ricardo the Executive Chef. After a great eight year run Ricardo chose to be closer to home in St. Paul. In 2020 Roberto Morua (a former Las Tortillas Line Cook) came back after his experiences with hotels and "Cheffing" at a large catering company. He now runs the kitchen as Las Tortillas' Executive Chef. Chef Roberto brings culinary flair back to Rosemount. The town has embraced them and the business. In turn, they give back to the community by taking part in community events, supporting local sports teams, schools and non-profit organizations. Donations to the Las Tortillas Community Fund are used to feed the community in need.
"We're just two kids from Rosemount, back in our home town, making our dream come true. We love to cook, host, eat good food, and laugh and joke with friends! We hope you enjoy our little place and become part of our family…and the banter you may experience means we love you!"
Ryan & Jen